May 24
A good day on the water. I found a nice piece of river where a good riffle flattened out into a longer deeper stretch that pushed up into some pockets created by rocks sticking out into the river and a slight bend in the bank. This led to insects hatching that came from that riffle that were having any trouble getting off the water at all where pushed into these pockets where they would drift slowly and were easy targets. In almost every break along the shore there was a nice Brown slurping casually as the helpless bugs drifted over them. It was a buffet for the fish, and the fisherman as well. I simply started with the first fish downstream and waded in below it, then one by one worked my way upstream picking off the next available fish.
The first fish was sitting mere inches off the rocky bank. By the size of the nose that poked up in regular intervals slurping mayflies I knew this was a nice fish. There were so many naturals on the water it was a waiting game as I tried to get the fish to eat my fly. It took several casts but eventually the BWO Sparkle Dun pattern was slurped by the big fish. I set the hook and set in for a good fight on my little three weight (my best rod for casting tiny dries, but not the best rod for fighting 20 inch fish). I fought him for a couple minutes and thought I had thing under control when he took one more big run and the hook pulled free.
No time to feel sorry for myself and on to the next fish. Ten feet up river another big nose was poking up in regular intervals. This fish was the only one that did not take my fly. Because one of my first casts to it, with the adrenaline from the last fish still subsiding, I closed the loop too fast on my back cast and hooked my fly line causing a pile up of line, and leader over the fishes lie. If it hadn't been for the three fish I could see feeding along the bank every 20 feet or so up above me I may have been real disappointed in myself, but it was time to move on.
I decided the next fish would be the last I would work on this lunch hour trip. I worked up just below it's position and found the fish here was in a tough lie. Under some brush tight to the bank making casting to it difficult. My first few casts were tentative and too far out from the bank to get into it's feeding lane. Finally I felt comfortable enough with those casts to try to punch it in close to the bank. My first good cast was drifting right over the fish. I could see it's dark form rising so slowly as it eyeballed my fly. The nose broke the surface in slow motion, but my tense rod arm was already in fast forward. I jerked the fly right out of it's mouth. I was sure this fish was a lost cause now as well but I stood and watched the spot he had been feeding. It didn't take long and it was back to work. I took a deep breath and prepared to give it another go. Several casts went by with out getting a look. Then finally I saw the fish again rise to the pattern, but this time it turned away at the last moment. Getting a bit discouraged that maybe this fish was educated on my fly now, and thinking I may have time to switch one time before I leave, I decided to make one more cast with this fly. As it drifted over the fish without seeming to get any attention I was about to pull the cast back when I saw the fish turn. It swam back downstream towards me and straight at the fly. This time I held my composure as the fish slowly rose up and gulped the artificial bug. I waited a count in my head and brought the rod tip up. I was connected.
It put up a good fight and eventually ended up in my net, but as I released the big brown, I knew that fly fishing is about so much more than the final score. It is the game itself that keeps us coming back.
May 25
I fished in the same spot I did yesterday. There were fewer fish in this nice little pocket than there was on Monday but there were a couple noses up. Where the bugs on the water yesterday had been BWO's and Callibaetis, today it was a PMD show. Less in number but very visible as their pale bodies contrasted with the dark water.
My first cast to a rising fish was sucked down by the big fish. However the hook never found pay dirt and the fly pulled free on the hook set. This fish did not stick around to find out what had just happened. The rises in his lie stopped and even after giving it a few minutes, it never showed itself again.
I moved up to almost the same spot I caught the fish yesterday where another fish was working in the tough lie. I hadn't seen anything rise there for a few minutes so I wondered if the fish was done as I began casting to the water I had last seen it. It didn't take long and the fish absolutely attacked my PMD Sparkle Dun pattern. I had too much slack out and had to madly scramble to take it up. I gave many opportunity there for the fish to pull free but finally gained control and was somehow still connected. A few mintutes later I pulled in a healthy 20" fish.
I cut this day short after releasing the nice brown and made my way back to the office. Twenty minutes, two fish targeted, one fish caught. It was worth it.
May 28
Today was windy! Gusts were blasting through at 25-30 mph. It was a little less than that when I started but by the time I was done fishing it was blowing hard. I still had a little success. With the wind I pulled a cripple pattern out and had some immediate results.




Here is where he came from in one of the calmer moments the river had today:




Finally after fighting with the wind for another hour my main problem became picking my fly out on the surface when their were white caps rolling over it. Usually I can watch the area pretty close and set on any activity but picking out a fish's rise is also tough when the surface is so disturbed. I missed a couple fish with my favorite PMD pattern that I just didn't see until it was to late. Who knows how many takes I had that I just couldn't see. The bugs where still hatching and the fish were still rising despite the big waves rolling on the surface of the river. Finally I found a protected little pocked and a fish rising that I could actually get my fly to when I waited for just the right moment, like when the wind died down to 15 mph instead of 30. I punched it in above the dark shape but as soon as my fly hit the water up above the fish another fish nabbed it. Turns out it was a MONSTER rainbow. My first rainbow on this river in a long time. Did I mention it was a MONSTER. It leaped from the water landing right in the middle of where the fish I was really casting too had been lying and soon came to the net. Without further ado I present to you my MONSTER rainbow!


Really I have HUGE hands. Well that little bow had totally messed up my chance at the big guy. He was long gone. I decided it was time to pack up and get back to the office but as I waded out of the water I came across this guy that I think is a Slate Brown Dun.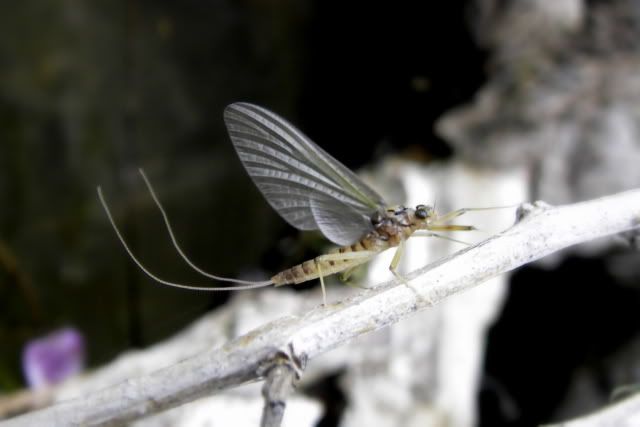 Very big Mayfly after seeing #18-20 PMD's all day. About a #12 hook is what it would take to duplicate it's size. I don't know if these come off here as a strong enough hatch to really get the fish's attention but after straining to see a Tiny PMD in the waves all day it's sounding pretty good to try a bug that size on next time.